Mumbai, July 30 (IANS) After waiting for over a week, Bollywood's actor Govinda has finally got a British visa and he is now headed to London to shoot director Tigmanshu Dhullia's film "Showman". Half of the film's crew left for London last week, but Govinda was stuck in Mumbai because his visa was not coming through.
"For about a week I couldn't understand why I was stranded. But now the visa has come through and I'm off to shoot for 'Showman'," Govinda told IANS Wednesday. The film is about sting operations carried by TV channels.
"I play a con artist. The film is about sting operations on television and other fake encounters that are such an important part of our lives today. Besides the fact that I want to work with Tigmanshu and I've a terrific role, my biggest incentive for this film is London."
Govinda, who made a comeback with "Partner", loves being in London. "Earlier, Dharamji (Dharmendra) was the one actor from our industry who loved spending time in London. Now it's me. I find every possible excuse to spend time in London."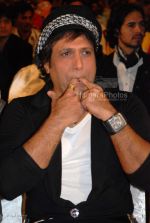 Govinda's family will join him there during the shooting of "Showman". "So it should be a lot of fun," Govinda said. Tigmanshu, who made "Haasil" earlier, says he always wanted to work with Govinda and having him in "Showman" is like a dream coming true.
"I came to Mumbai only so I can work with Govinda. To call myself his fan would be an understatement. I've seen his films repeatedly. And my favourite is 'Zulm Ki Hukumat', a remake of 'The Godfather', in which Govinda was awesome," said Tigmanshu.
— By Subhash K. Jha