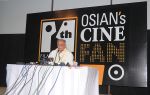 ELEVENTH OSIAN'S CINEFAN FILM FESTIVAL COMMENCES WITH LIFETIME ACHIEVEMENT AWARD TO GULZAR . New Delhi: 25 October: The Eleventh Osian's-Cinefan Film Festival of Asian and Arab Cinema commenced here this evening to a grand start with the presentation of the Lifetime Achievement Award to director and lyricist Gulzar and the screening of the France-Romanian co-production 'Hooked' by Adrian Sitaru.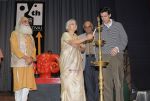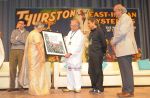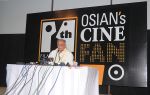 In an opening embellished by some selected songs of Gulzar sung by Rekha Bhardwaj, wife of filmmaker Vishal Bhardwaj, Delhi Chief Minister Sheila Dikshit expressed satisfaction that the Osian's-Cinefan Festival had more than amply filled the void created by shifting the International Film Festival of India to Goa. She announced that the Delhi Government would continue supporting the Festival.
Osian's Connoisseurs of Art Chairman Neville Tuli announced that the entire focus of the festival had shifted to one of education and would be part of Osian's Learning Experience (OLE). He said The aim of OLE was to delve deeper into the values of filmmaking.
Accepting his award from the Chief Minister, Gulzar said such awards made him feel that his journey in the film industry had been a happy one. He said such honours served as a re-assurance for artistes to continue their work.
Osian's Senior Advisor M Varadarajan described Mrs Dikshit as a 'chief minister of sustainable culture' for the manner in which she had supported the arts in the city and had also supported the Festival since its inception in 1999.
In his opening remarks, Osian's Director General Mani Kaul said the festival was breaking new ground in the NewStream and InDialogue sections.
After the Chief Minister, Gulzar and Mr Varadarjan lit the auspicious lamp to mark the start of the Festival, the 16-member Connoisseurs Jury was introduced to the audience. Maria and Adrian from the opening film expressed their joy at being in India to present their film and promised to come again.
Rekha sang a number of songs by Gulzar including 'Tere Ishq Mein', 'Sili sili hawa', 'Tujhse naraaz nahin zindagi', and 'Dil hoom hoom karey'.
A large number of dignitaries attended the Festival opening in Sirifort One which was elaborately decorated. Earlier, the Chief Minister and Gulzar also went around the exhibition of posters and photographs of the film industry.
As in previous years, the Festival has been organized by Osian's Connoisseurs of Art in association with the Government of the NCT of Delhi. One of the world's leading festivals of contemporary Indian, Asian and Arab cinema, it is being held at the Siri Fort Complex and Alliance Francaise in New Delhi.
With about 100 features and shorts from about 25 countries including India, the Festival will be a reflective insight into the multitudes of cultures and ideas with a focus in India. For the first time, India will be in the spotlight at the Festival
The NewStream Cinema Section with six prominent Hindi films takes the concept of OLE further and will showcase films that have dared to redefine mainstream cinema. These films are: 'Amir' (Raj Kumar Gupta), 'Dev D' (Anurag Kashyap), 'Kaminey' (Vishal Bhardwaj), 'Love Aaj Kal' (Imtiaz Ali), 'Luck by Chance' (Zoya Akhtar), and 'Oye Lucky! Lucky Oye!' (Dibakar Banerjee).
In a new initiative, there is the InDialogue section of 34 films from 28 countries that show a dialogue of sensibilities amongst the makers of a certain kind of cinema dedicated to the subtlest and most intelligent employment of the possibilities of the cinematic, all over the world.
The InCompetition Section has fourteen shorts and thirteen features from over fifteen countries and will be judged by three juries: a combined three-member jury of the Network for Promotion of Asian Cinema (NETPAC) and the international body of film critics FIPRESCI, a three-member short film jury, and the Connoisseurs jury. There will also be an audience award.
The auction on 29 October coinciding with the festival this year will bring to the collector, a striking range of Indian and Asian antiquities.
In a special Cross Over meet on 27 October at 4.30 am in the morning, famed rudra veena exponent Wahabuddin Dagar will play raga Lalit which is played at the break of dawn, which will be followed by an hour-long discussion of the relationship between music and cinema. This will be held at the Alliance Francaise
Press Release 25th October 2009 POETRY REMAINS MY LIFELINE, LITERATURE MY PASSION: GULZAR
New Delhi, 25 October: Eminent director and lyricist Gulzar, who received the Lifetime Achievement Award at the opening of the 11th Osian's-Cinefan Festival of Asian and Arab Cinema, says he has given up directing films only because poetry is his lifeline and literature is his passion.
He told a press meet immediately after receiving the award from Delhi Chief Minister Sheila Dikshit that he was now devoting his time writing books for children.
He did not have any regrets in his career as he felt he had achieved all he wanted.
Lauding the Osian's Connoisseurs of Art move to launch the Osian's Learning Experience (OLE), he said he was happy that cinema was being taken seriously and as a work of art to be studied. He said the study of posters and booklets was would also tell a lot about the history of cinema in the country.
While stressing he had nothing to teach, he said he was prepared to share whatever knowledge he had acquired over the years.
In answer to a question, he said the audiences had also matured and may not accept the kind of lyrics they loved in the fifties and sixties. The songs today are a reflection of society and fine arts always reflects life, he said.
He said though his daughter Meghna had turned filmmaker, he did not interfere in her working and only wrote the lyrics for her films.
The Lifetime Achievement Award for Cinematic Contribution is the most prestigious Award presented by Osian's Cinefan and the heartfelt tribute focuses on Gulzar's creativity and contribution to entertainment that goes beyond cultural, linguistic and other boundaries. The eminent Film Director Mrinal Sen was the winner of the Award last year.
What is truly remarkable about Gulzar's work is the manner in which he has served as an inspiration for generations of audiences right down to the contemporary times. His films, dialogues and songs have swung from the romantic lyricism of a 'mora gora ang layi le' in Bandini to that of the 1970s with Aandhi, Parichay and Kinara, to the youthful moods of a Bunty Aur Babli (2005), Omkara (2006) and Slumdog Millionaire (2008).
Today with his graceful humility, he stands as a colossus of inspiration for writers, music directors and filmmakers, a beacon for those who want to trace the most radical edges of Indian social life, beyond the mundane and the stereotypical, in their cinemas.
It is now half a century since Sampooran Singh 'Gulzar' has been an institution of Indian cinema. A renowned poet in his own right (winner of the Sahitya Akademi Award in 2002), Gulzar's has also infused a sense of poetry and wistful contemplation about the complexities of human life – as a writer of films, as a director and as a writer of songs.
A master of Indian languages, dialects and poetic idioms, the performance traditions of Gulzar's cinematic work is committed to the idioms of language, music and human relationships that he feels lend the right tone to quietly dignified and passionate lives in the midst of historical and social chaos. His ability to trace his pre-occupations in a sensitive manner through a range of film subjects – politics, social drama or distinctive cultural worlds is without parallel in the history of Hindi cinema.
Osian's Cinefan, one of the world's leading festivals of Contemporary Indian, Asian and Arab Cinema will be held at the Siri Fort Complex in New Delhi from Saturday, 24 – 30 October this year.