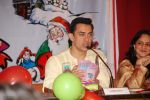 Aamir Khan aka Aamir Hussain Khan born on March 14, 1965 is an Indian film actor, director and producer. Proved his mettle in every field he takes on, the actorwould turn 43 tomorrow. We took a glance about his career overall and his journey which still going strong.
Aamir Khan started his career as child artist in his uncle Nasir Hussain's film "Yaadon Ki Baraat" in 1973 but his professional career kick started with a Ketan Mehta's film "Holi" in 1984. That film didn't do well at the box office and he tasted first success with his cousin Mansoor Khan's film "Qayamat Se Qayamat Tak" in 1988 and thus became a chocolate boy of Bollywood. It was also through this film that he won his first Filmfare for Best Male Debut and since then he never looked back. After six previous nominations during the 1980s and 1990s, Khan received his first Filmfare Best Actor Award for his performance in Raja Hindustani in 1996, his biggest commercial success so far.
Due to his typical 'chocolate hero' looks; he was publicized as a teen idol. After QSQT, he was seen in several other films in the late '80s and early '90s: Dil (1990), which became the highest grossing film of the year, Dil Hai Ke Manta Nahin (1991), Jo Jeeta Wohi Sikandar (1992), Hum Hain Rahi Pyar Ke (1993) for which he also wrote the screenplay), and Rangeela (1995). Most of these films were successful critically and commercially. Later on Andaz Apna Apna with Salman Khan is regarded his all time comedy film though this film didn't get good reviews from critics. But today also this film is loved by every one and there are rumors that the makers are planning to make the sequel of Andaz Apna Apna. But in 1996 he just had one commercial success "Raja Hindustani" which was directed by Dharmesh Darshan. This film earned him his first Filmfare Best Actor Award, after six previous nominations, and went on to become the biggest hit of the year, as well as the third highest grossing Indian film of the 1990s and then he decided to do one good film every year. So in 1997, he co-starred with Ajay Devgan and was paired opposite Juhi Chawla in the film Ishq, which performed well at the box office. In 1998, Khan appeared in the quite successful Ghulam, for which he also did playback singing and the song he sung, Aati Kya Khandala… became everyone's favorite
After this in 1999, John Mathew Matthan's Sarfarosh was also quite successful gaining an above average box office verdict. The film was highly appreciated amongst the critics especially Khan's role as ASP Ajay Singh Rathod a dedicated, honest and an uncorrupt cop, as did his role in Deepa Mehta's art film Earth with Nandita Das.
But his first release for the new millennium, Mela, in which he acted alongside his real-life brother Faisal Khan, doomed at the box-office. While in 2001 he appeared in Lagaan. The film was a major critical and commercial success, and received a nomination for Best Foreign Language Film at the 74th Academy Awards. Additionally, the film gathered critical acclaim at several international film festivals, in addition to winning many Indian awards, including the National Film Awards. Khan himself won his second Filmfare Best Actor Award. After four-years of break from acting, Khan made his comeback with Ketan Mehta's The Rising in 2005, and later won a Filmfare Critics Award for Best Performance for his role in Rang De Basanti (2006). Later on he worked with Yash Raj film "Fannah" in which he played a negative role with Kajol as his love interest. In 2007, he made his directorial debut with Taare Zameen Par, for which he received a Filmfare Best Director Award. In 2008 Khan appeared in the movie Ghajini. The film was a major commercial success and became the highest grosser of the year while this year he will be seen again in Rajkumar Hirani's 3 Idiots with Kareena Kapoor.
Aamir Khan as a producer
In 2001, He founded Aamir Khan Productions with Lagaan which was directed by Ashutosh Gowarikar and then came Taare Zameen Par and through this film he turned into direction in 2007. In 2008, he launched his nephew Imran Khan in "Jaane Tu Yaa Jaane Naa" which was a commercial success and now next films under his production house are "Dhobi Ghaat" which is directed by his wife Kiran Rao and other film is "Delly Belly" in which Imran Khan plays the main lead.
Aamir Khan's personal life
His father, Tahir Hussain, is a film producer while his deceased uncle, Nasir Hussain, was a film producer as well as a director. He is an off-spring of the Muslim scholar and politician Maulana Abul Kalam Azad. He is also a descendant of former President of India Dr. Zakir Hussain and a second cousin to former Chairperson of Rajya Sabha Dr Najma Heptullah. During the years of Qayamat Se Qayamat Tak, Khan married Reena Dutta as a result of this marriage his parents did not approve because of her not being a Muslim and so Khan's marriage stayed a secret both from his parents and the media for a while. Reena made a brief appearance in the popular song sequence Papa Kehte Hain in Qayamat Se Qayamat Tak. Reena Dutta maintained a low profile and continued her job at a travel agency. They had two children; a son named Junaid and a daughter, Ira, and led a quiet family life away from the public eye. Reena was involved, briefly, in Khan's career when she worked as a producer for Lagaan. But a turning point came when in December 2002, Khan filed for divorce, ending the 15-year marriage, with Reena taking the custody of both their children. On December 28, 2005, he married Kiran Rao who had been an assistant director to Ashutosh Gowariker during the filming of Lagaan. In 2007, his brother Faisal caused a media scandal by accusing Khan of mistreating him and forcing him to take medication. Faisal has been said to be mentally unstable. In 2007, Khan was invited to have a wax imitation of him put on display at Madame Tussauds Museum in London.