On Friday, Priyanka Chopra attended press conference of her upcoming Marathi production Kay Re Rascala along with its cast and crew in Mumbai. While speaking to media she stated that she doesn't do normal things when asked her about for giving a miss to IIFA 2017.
While the whole of B-Town is in New York to attend the 18th International Indian Film Academy (IIFA) Awards, Priyanka Chopra is back home from USA, when asked her reason behind not attending IIFA 2017, she fumed at reporter asking, "Does every actor go to every award every year? How many actors not gone for this award? No one asked this question to them. It was my birthday so people should not over think it".
She continued, "I always do opposite things. I don't do normal things. Normal is boring. My birthday is around the corner and from many days I haven't spend enough time with my family as I was constantly travelling so it was important to me to spend time with them but IIFA unfortunately fell at the same time so this year I am going on holiday with my family."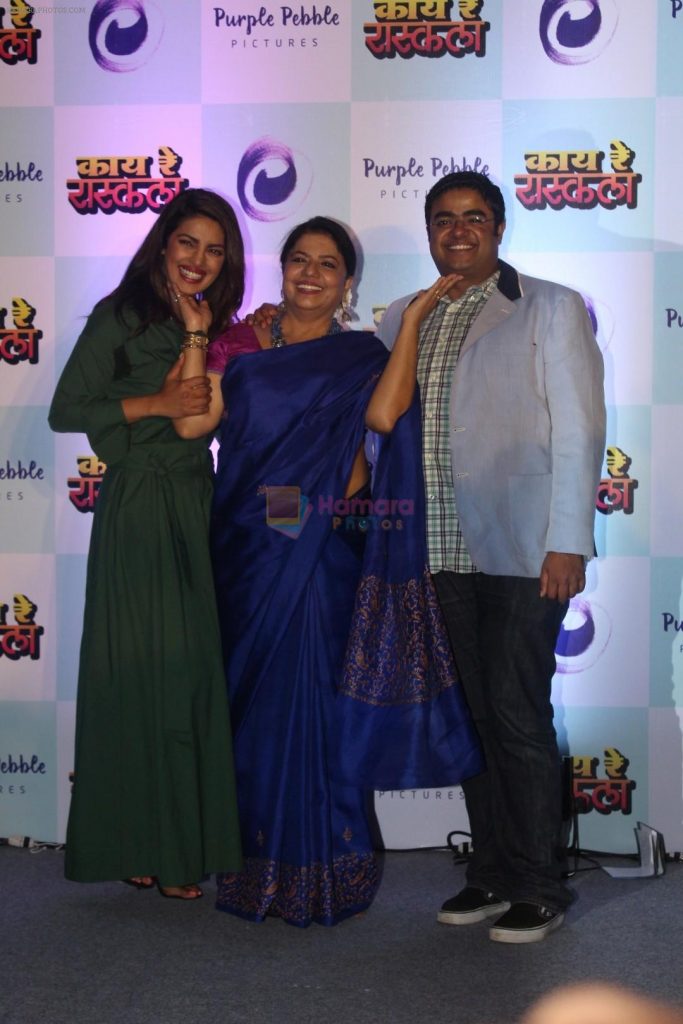 When asked her about reason for concentrating on regional films and not doing producing Hindi films which is her prime identity, she said, "It was important for me to give opportunity to new talent who want to do good work because there is much talent in our country but sometimes they doesn't get opportunities. It was important for me to give global platform and positioning to regional films because from each region you get beautiful and interesting stories. I have produced Marathi and Punjabi films and now in future I will be producing Sikkimese, Assamese, Bengali, Bhojpuri films. I am developing Hindi and English films as well but as of now, noting has been finalized because I feel it has to be right one. For my each film, it is important to have right combination of things".
When asked her about writing autobiography, she said, "Right now, lot of chapters are remaining in my life but anyone who wants to write book on me then it would be named as 'unfinished'".
When asked her region for specifically producing films which are based on North-East region of our country, she said, "When I did Mary Kom shoot there and I talked with Mary (boxer), I felt that it is most ignored region in our country in terms of entertainment and talent. People over there don't get many opportunities so now I have produced Sikkimese and Assamese film. I am tourism ambassador of Assam as well so I am constantly in touch with them about doing things which is required for tourism so I feel there is something that can be brought into system."
Priyanka hasn't came with her Singles as far as her inclination towards music is concerned from long time, when asked her about that, she said, "It is deliberate. When you do music, you have to have time and ability to promote it. I am doing so much work in terms of acting and producing so I am not getting sufficient time to produce music. I always want to complete things. Last time I sang in Ventilator but as of now, there are no plans to produce music."
Recently, for two weeks, Priyanka Chopra trending on social media just behind her Bay Watch co-star Dwayne Johnson, when asked about that, she said, "It was quite exciting. I feel that is because of fans and my well wishers. It has nothing to do with me. I just express myself on social media but the kind of interaction I do with my fans that is completely accredited to them. My co-actor also gave me congratulation for that and I felt very shy about it".
Priyanka, who debuted in Hollywood with this year's Baywatch, has two other projects in the pipeline. Recently, she was spotted on the sets of 'Isn't It Romantic', her third Hollywood film. In the film, she co-stars with Rebel Wilson, Adam Devine and Liam Hemsworth. Priyanka is also part of American television show Quantico.
Priyanka's last Hindi film was Prakash Jha's Jai Gangaajal, which released in 2016. As per reports, she has signed Gustakhiyan, a Sanjay Leela Bhansali film. In the film, Priyanka will play writer-poetess Amrita Pritam.