On Thursday, makers of Raag desh launched trailer of their film in Mumbai. Filmmaker Tigmanshu Dhulia, Mohit Marwah and Producer Gurdeep Singh Sappal , CEO of Rajya Sabha TV were present at the event in Mumbai. While speaking to the media Mohit revealed that when he realized that he is doing film with Tigmanshu Dhulia, he jumped off from the bed out of excitement.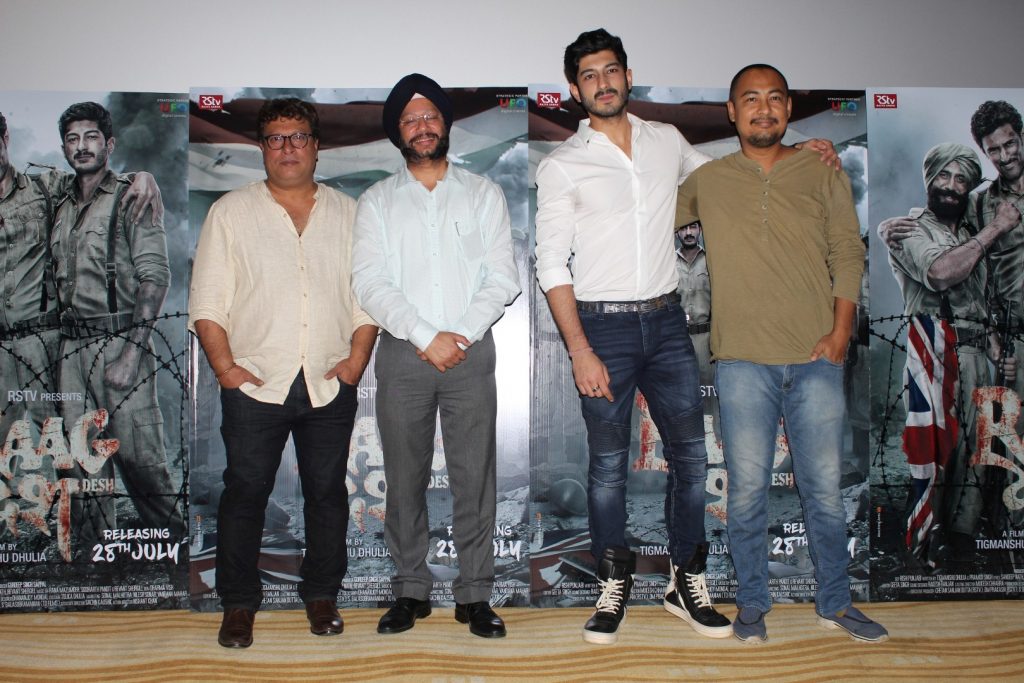 Mohit made his Bollywood debut with Kiara Advani in Fugly, talking about his working in Raagdesh, he said, "I jumped off my bed when I realized that I am doing film with Tigmanshu Dhulia. It's been a really great learning experience for me and through this film I am not only learnt about craft of filmmaking but during this film I learnt about this episode because when I was in school , I haven't had any idea about INA (Indian National Army). In the subject of history, this episode hasn't been included anywhere so when I first heard the script, the main intension was to present the film for audience so to be part of film like this where you are educating and entertaining people at the same time so it was big privilege to be a part of this film. "
Mohit also talked about challenges he faced while playing the character, he said, "It was difficult because it was very away from how I am as a person but it was exciting because I think, I became an actor to go out there and play part which are unlike me so it was very satisfying to be part of such film in early stage of my career".
He also talked about preparation he did for the film, he said, "When I signed the film, 2-3 books were handed over to me and there are documentaries on this subject and now with the power of internet, there are lot more information is coming out which wasn't the case earlier but now it is easy to access the information so studied that and Tigmanshu Sir gave me one brief that to observe old pictures of my grandparents and to behave like them because people of those time were decent and innocent in nature so that is what I tried to do with this film."
Arjun Kapoor's Mubarakan and Mohit's raagdesh is releasing of same day and they both are cousins so when asked about any kind of competition in the family, Mohit said, "Me and Arjun were discussing this the other day and Arjun told me that it will be family week. If you want to see comedy then you can watch that film and if you want to see other genre film then you can see our film. These two films are completely different so I feel both films will find its own audience and both films should fill the theatres and do roaring business".
Raagdesh is a periodic drama based on the Indian national army setup by Netaji Subhash Chandra Bose and the war to liberate India that was fought on the shores of the Irrawaddy in Burma. The British called the soldiers of the INA renegades and Japanese stooges and a trial was held at the Redfort in Delhi that was called the Red fort trials of 1945. Raag Desh brings to life that epic trial that paved the way for India's Freedom and those meteoric times.
It stars Mohit Marwah, Kunal Kapoor and Amit Sadh in key roles. It is releasing on 28 Jul, 2017.