MANISHA KELKAR, the daughter of the late writer Ram Kelkar is all set to sashay into Bollywood with Abhishek Sawant as her leading man, tells JYOTHI VENKATESH that she has a good body and hence has no hesitation to flaunt it if it is the requirement of the script.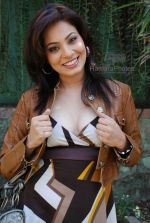 How did you bag the role of the leading lady in Lottery?
It was Adesh K. Arjun the writer of the film who had introduced me to Hemant Prabhu the director of the film. I auditioned for the role and bagged it. It was as simple and easy as that.

What is your role in Lottery?
I play the role of the super model Simran in a popular fashion house the film. Simran is an educated go getter girl who gets what she wants in life. Lottery is a romantic thriller in which my co-stars are Abhishek Sawant and Rucha Gujarati. While Abhijeet plays the role of an accountant in the fashion house where I function, Rucha Gujarati plays his neighbor.
How did you prepare for the role?
I have quite a few model friends. The first thing that I did after I was signed for the film was to chat with some of them. Every profession makes you behave differently. You would not believe it but the fact is that how I talk and move in the film as Simran is quite unlike how I do in real life. A person cannot be ten different things and hence but though Simran and I are poles apart in real life, I could relate to the character when I got into the skin of Simran for the film.


To what extent were you nervous when you faced the camera for the first time?
I was not nervous at all because basically I am a theater person and have played a wide range of characters earlier for Mujib Khan's theatre group. Also our director Hemant Prabhu had worked quite hard on us when he set out to conduct a two week long workshop for both Abhijeet and I, where we had focused on the variations in our respective characters.

How was the experience of working with the former Indian Idol Abhijeet Sawant?
Believe it or not, I was one of the few persons who had voted for Abhijeet when he was contesting for the crown in Indian Idol. He is a sweet and a down- to -earth next -door boy. He plays one in the film too. Thanks to the workshop, both Abhijeet and I shared a very good chemistry.
Did you get along with Rucha Gujarathi on the sets?
Both Rucha and I did not have a lot of screen space in the film Lottery but we bonded after the completion of the film when we were together to promote the film. Though I had not seen her in serials like Bhabhi and Kusum, on the sets we used to call her a veteran actress of seven years. Frankly I do not believe in rivalry because I feel that there is a lot of work in the film industry and each and every actor or actress will have his or her own share.

What did you learn from your parents?
My dad used to ask me to watch all flop films so that I know what the mistakes in those films are and hence avoid them when I take up acting. My mother Jeevankala was a very popular actress at one time and has to her credit as many as 300 films in Hindi as well as Marathi. I miss my dad who passed away a few years back but my mother is my back-bone now.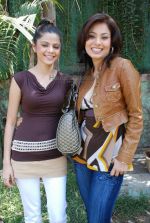 What made you take up acting?
I love camera. We have just one life and hence I want to enjoy it to the fullest. Acting gives me a high. I feel that acting is one thing which can easily transcend me to different stages of my life. As an actress, you can play with your eyes when you set out to do a sad scene. Basically I try to be myself and add to it as an actress what the character requires.
What according to you is your plus point as an actress?
People say that I exude a lot of energy on the sets. I am always excited on the sets. I think my belief in the script is my plus point as an actress. I feel that f the script is good; it will help me stand out as an actress.

Today an actress needs to expose if she has to survive. What is your take on exposure?
If the script demands it and the scenes are not incorporated just for the sake of titillating the viewer, I am game for exposure of any kind. All that I can say as a modem girl of today, who is also professional to the core is that I have a good body and I have absolutely no hesitation to flaunt it.

What kind of roles do you want to do?
I am interested in doing all kinds of roles instead of letting myself be type-cast as an actress. I am game even for negative roles which are well etched. You remember Shah Rukh Khan and Kajol for their negative characters in films like Baazigar and Gupt though they were excellent as a romantic pair in Dilwale Dulhaniya Le Jayenge. Isn't it?
Who are your favorite actors?
Every actor, I feel, can teach you what to do and also what not to do. Sridevi is my favorite actress. Besides Sri, I also liked Meenakshi Seshadri in Damini, Sushmita Sen in Samay and last but not the least Priyanka Chopra in Fashion. As far as actors are concerned, I feel that all of them are eye candies but my favorite is Shah Rukh Khan since I had done the KBC promo with him. Though it was my first, I had to slap Shah Rukh Khan but he made me feel comfortable though he is a mega star.
What do you like in a Man's anatomy?
I like guys with narrow waists. I feel that they are hot. Like John Abraham and Hrithik Roshan. I think both John and Hrithik have the best bodies in the film industry. Salman Khan used to have a good body but now of late he has gone straight.

Have you signed any other film now that Lottery is being readied for release?
I am waiting for a good project. I am ready to wait because I have patience in abundant measure.