Mumbai, July 25 (IANS) Bollywood star Akshay Kumar, who took time out from the shooting of Sajid Nadiadwala's "Kambhakt Ishq" in Los Angeles to be part of the Bachchan's Unforgettable tour opening show in Toronto, says he wouldn't mind going out of the way for the Big B.
The concert kicked off July 18 and the actor performed with the Bachchans – Amitabh, Abhishek, Aishwarya Rai. Preity Zinta and Riteish Deshmukh also participated in the event. "Amitji is the most respected actor in our country. I'd do anything he asks me to. I wanted to do the concert in Toronto and I'm glad it went well," Akshay, who resumes shooting for "Kambhakt Ishq", told IANS on phone from Los Angeles.
"I joined the Bachchans for the first of their Unforgettable concerts in Toronto. With the shooting and the rehearsals, I didn't know whether I was coming or going," he added. This is the only concert that Akshay participated in. "There's no time for me to cram in any more activity."
"I'm far away from the maddening gossip and idle talk in Mumbai. I'm not bothered with what they're saying about me at home. And I'm happy that way," he said.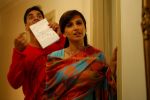 Akshay, who plays a stuntman in the film, was especially happy to work with Sylvester Stallone. "Since it's a stuntman's role, Akshay has been asked to do some of the most complicated stunts of his career. And there's no question of using body doubles. Akshay has decided to do all the stunts himself, although producer Sajid Nadiadwala thought some stunts were way too dangerous. Out there at Universal Stuidios all Hollywood actors are insured against dangerous stunts," said a source.
— By Subhash K. Jha