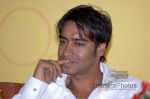 New Delhi, July 28 (IANS) Bollywood actor Ajay Devgan, who is busy shooting for his animated venture "Toonpur Ka Superhero", says his complexion might metamorphose into green because he is constantly shooting against a green backdrop."It looks like I am going to turn green without the presence of chlorophyll in me, reason being, I am shooting only against green background for this film," Ajay wrote on his blog www.ajaydevgan.net.
Ajay described his long engagement with the project and added: "This will be the second schedule, which will last till the first week of September."
The actor says he is enjoying the experience.
"It is so much fun when I watch myself on an off line monitor and realise the way I am going to look as I perform along with the animated characters in their toon world."
He also mentioned that there are more than 200 people behind the scenes, working round the clock creating, developing and synchronising the characters.
"Kudos to the entire team of 'Toonpur Ka Superhero'," he concluded.