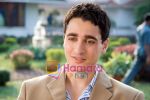 It's not just Abhishek Bacchan and John Abraham who are flaunting their yaari in Bollywood. After the Filmfare award ceremony Ranbir Kapoor and Abhishek Bachchan are doing the same. The Dostana effect seems to have been rubbing off on everyone. Imran Khan hopes that his new chemistry with a fellow male actor of the same age will bring out something good.
An excited Imran said, "It's equally rocking. We share a wonderful chemistry in real life. We are a hot pair and we enjoy every moment of our friendship. We understand each other very well."
He added, "I admire Ranbir very much. I have learnt a lot of things from him. He has encouraged me a lot. He himself is a very hard worker. He works day and night for his characters. I really admire his qualities."
He also revealed that most have said that if they are paired together in any film, they will look hotter than any other couple.
At the same time, he keeps uncle Aamir as a role model.
He also said, "He is one of the most decent actors of the film industry and he will always be a role model for newcomers. I am not concerned with his problems with SRK. They have been good friends and even if there is anything wrong between the two they know how to sort it out."
Umm… this B-Town boy really knows how to get his point across. He's sure to go a long way.