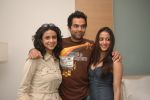 Abhay Deol's been a welding student in New York for a while now. And he's been socializing a lot too these days. He was spotted with director Mira Nair at the star-studded India Abroad Person of the Year award ceremony in New York on March 20.
Now, the youngest Deol has been very unlike his brothers and has made his mark with offbeat cinema, more recently 'Oye Oye Lucky Lucky Oye' and 'Dev D'. Even his debut 'Socha Na Tha' didn't only exhibit his muscular prowess like his brothers and non acting cousin Esha.
And Nair has been a master story teller and a respected name in that part of the world as well.
Since Deol is based there too some sort collaboration between them can just happen.
Sunny, Bobby and Esha might disappoint but Abhay is sure to make all the Deols proud.