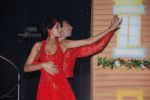 Leggy model Jesse Randhawa has been making more news for her partnership with dancer Sandeep Soparkar professionally and on a personal level. A lot happened thanks to his alleged association with pop princess Britney Spears too. But she's not satisfied. Like all models, Jesse wishes to be on the big screen.
Though her first movie was a B grade washout- a 2004 film called 'Chot', which not surprisingly flopped miserably.
But thankfully her cameo as a professor caught in the cesspool of politics in Anurag Kashyap's recently released- long stuck 'Gulaal' has not gone unnoticed.
Though her role was small, she thinks it gave her the scope to prove herself as an actress. She's trying her best to only focus on Bollywood.
The buzz is that it was her unconventional looks which really caught Kashyap's eye and he took her for 'Gulaal'. This was just after he had made 'Paanch' many years ago, which was not allowed a release by the Censor Board.
Jessie was impressed by Kashyap's story narration and said yes. She later did an item number in his another complicated venture 'No Smoking', which starred John Abraham.
She wants to do good roles and not just run around trees.
Her next screen appearance will be another cameo in Srinivasan Bhashyam's 'Love Khichdi'.
Now Jesse doesn't have the look of a conventional heroine and is reportedly already 39 though she doesn't look it. We wonder how far she'll go from here.