John Abraham has said that "Hamara Bajaj" is only a working title for his next production as he is now tired of litigations.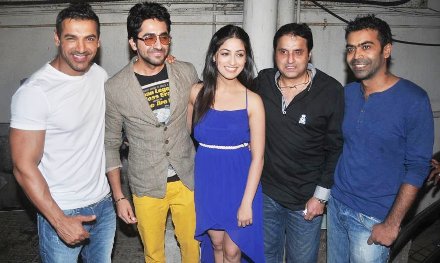 Bajaj Auto had dragged John Abraham's production company to court over the title of the film earlier this year.
Clarifying his stand on the matter, John said:
'Hamara Bajaj', first of all, is a working title. We are tired of people filing cases on us and we don't want another litigation on our head from any motor cycling manufacturer. So it's a working title.
John Abraham spoke here Friday at an event to showcase the Aprilia RSV4 bike.
John Abraham's last production "Madras Cafe" sparked protests across the world even before it got released as Tamil groups claimed that the film portrays the Liberation Tigers of Tamil Eelam (LTTE) in poor light. A Public Interest Litigation was also filed against the film seeking a ban on it.
Meanwhile, talking about "Hamara Bajaj", John Abraham said those who loved his debut production "Vicky Donor", will also enjoy the new film which will go on the floors soon.
"Hamara Bajaj" stars Ayushmann Khurrana and will be directed by Shoojit Sircar, who directed "Vicky Donor" and "Madras Cafe".