John Abraham, a bike enthusiast, who is also buying a spot in the Moto 2 format of motorcycle road racing championship, says he is even planning a movie on "serious motor cycling".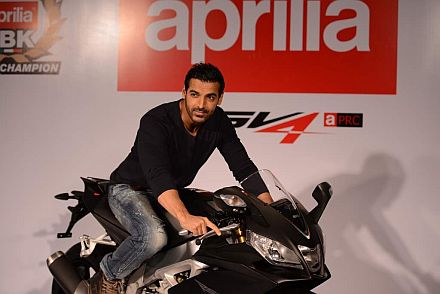 I would love to take my love forward by planning a film, I am scripting a film on serious motor cycling which is my next step.
John Abraham said at an event to showcase the Aprilia RSV4 bike.
Commenting on the news surrounding his decision to buy a spot in Moto 2, he said:
The talks have reached a pretty advanced stage. I am interested in the Moto 2 format. It's the Moto 2, Moto 3 and Moto GP. The Moto 2 is the 500 cc. That's where my interest lies, I don't have too much money for the Moto GP team.
However, he clarified that for now "we are looking for partners". The Moto 2 is one of the classes of racing organised under the Road Racing World Championship Grand Prix.
It's premature to say who my partner is because how it works is that you have a partner for chassis, engine and the sponsor.  For the Moto GP team, I think another 15 days. That will be a formal announcement, hopefully with a launch if it happens this time. If we don't get a seat this time, because there are a number of people vying for the same spot, then it'll be delayed.
The actor-producer is currently basking in the success of his latest film "Madras Cafe".He has also started shooting for "Welcome Back."