This week, Karan Johar invites real-life couple John Abraham and Bipasha Basu on his popular chat show, Koffee With Karan. Looking stunning, Bipasha talks about her sex-symbol tag, and tells Karan how she had to work hard to get in perfect shape to wear the bikini in Dhoom: 2.
The couple talk about their relationship, their struggling days in the film industry, marriage, success and a lot more. They also talk about their equation with their colleagues in the film industry and for the first time, John talks about his issues with Salman Khan, Kareena Kapoor and Shahid Kapur.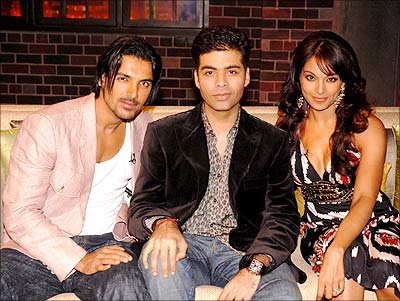 Excerpts from the show.
Karan: Tell me, this sex symbol tag, are you fed up of it or do you love it still?
Bipasha: Well, I hope I remain sexy till the age of 100, if I live that long. I love living. I love a life. There a lot of people who say that I want to die young. You know, 'why to live old?' I like every aspect of life there is. Every year, I enjoy it a little more. So, I want to be sexy at 100. I want to be a sexy grandmother.
Karan: Well, that's a wonderful approach to have. Dhoom: 2, of course, is known for the very sexy Bipasha Basu. Everyone all over the world just said how hot you looked in the film.
Bipasha: I am very happy with Dhoom: 2. It's done me good. I really worked hard for it. Especially that bikini. You really have to slog it out; eat less.
Karan: You almost became like your boyfriend when you shot for that scene. Well, you looked superb and that's what matters. What do you have to say about it, John?
John: She was superb. She looked beautiful. And a special mention about the way she carried the bikini shot off. I don't think many people can do that and still you know. It could look worse or classy but I think she was in amazing shape because of all my training…
Bipasha: Don't lie on television.
Karan: But when you have such a hot girlfriend — and all kinds of people compliment her and think she's so sexy — has it ever bothered you? Any kind of like irritation at times?
John: Well, I think it's great. It's a compliment. And she's got such long legs!
Karan: So she can defend herself? And what about you Bipasha? Women think of all kinds of obscene things when they think of him. Does that bother you?
Bipasha: I think it's the business that we are in, the kind of personalities that we are, and the kind of image that we keep. I think if that is not the reaction, then there is something wrong. I look at it very intelligently. The reason we are together was because at one point of time, we must have found each other really attractive. That's why we firstly must've got hitched. It doesn't bother me. I think of myself very highly.
Karan: I like that. That's very important.
Bipasha: Yeah. There could be other women but there's no one like me.
Karan: And you agree with her John?
John: She's the original.
Karan: And everyone else is a copy?
John: No, not really. But she's the original.
Watch Koffee With Karan on Star One and Star World, on May 6 at 9 pm.