Julia Roberts visited the Taj Majal in Agra on Saturday. On Sunday she was back shooting a stone's throw away from Saif's ancestral home in Pataudi.
In fact for the first time the Pataudis are allowing a unit to shoot in their home.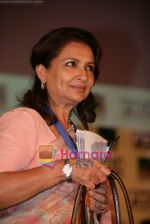 Saif's mom is very angry at the way her son is referred to as the 'Chote Nawab' in the media.
"Saif is a grown-up man of 36. There's no Chote or Nawab in his personality. He wants to be known as an actor, though he comes from a royal family."
Julia is indeed staying in Sharmila and her husband's property.
"Julia Roberts is our guest. She's staying in a part of our property. We've let the unit stay in a flank, because she's a colleague and I know what it is like to shoot far away from home."
The Pataudi staff has been helping Julia Robert's unit with whatever they require.
At this very moment Julia Roberts is shooting in an ashram right next to the Pataudi palace.
In fact there will be some shooting in the Pataudis home where Julia Roberts' unit is staying.
"We're staying in the main palace.They are staying in a separate part of the royal property known as the Nafeez Manzil. After Pataudi, they'll be shooting in Italy and Malaysia. In the past Aamir Khan shot and stayed with us for The Rising. Deepa Mehta shot Earth in Pataudi, though that portion was edited out,"
says Sharmila who is in Pataudi with the entire family for a family function.
"Tiger and I are here. He dragged us out here in this heat, much to our annoyance. Saif and my two daughters Sabah and Soha are also here for a Mewati Akikah ceremony which is a traditional Muslim mundan,"
said Sharmila from Pataudi on Sunday.
— By Subhash K Jha