By: Faisal Saif
Though her debut Hindi film 5 Ghantey Mien 5 Crore was not able to create a stir at the Box Office, The Bold and Controversial Kavita Radheshyam rejected Bigg Boss season 6 wild card entry offer and landed herself a principal role in Rupesh Paul's much talked about international film 'Kamasutra 3D'.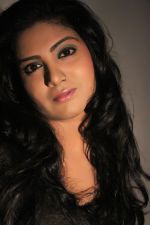 Kamasutra 3D was always in the news as it has the 'Playboy' actress Sherlyn Chopra playing the Lead Role. The film's first look was recently revealed at IFFI (Goa). Speaking about the role and the film Kavita says "It was really an Honor that Rupesh Paul the director thought of me. I have seen Rupesh Paul's malayalam film 'Laptop' that had Suresh Gopi and according to me the film was ahead of it's time. The role that i play in Kamasutra is very challenging and will hit the right note." Kavita had played a Beer-Bar dancer in 5 Ghantey Mien 5 Crorewhich had some really bold scenes, She is also playing the second lead part in the big budgeted kannada feature film 'Ragini IPS' where she again plays a Seductress. And now some sources reveals, Kavita has accepted an electrifying Nude Scene in Kamasutra 3D. "I cannot reveal much about the role as this would be very early. If not a co-incidence, Maybe all my director's find me very 'Hot' that's why they cast me in such role's. But all i can say is Kamasutra 3D also explores my acting talent and capability in every way."
When contacted director Rupesh Paul, He said "Kavita Radheshyam is very Bold and Daring actress and my film requires actors like her. Her character in the film has lots of sensational scenes and she has agreed to it, And the character she is playing will get lot of sympathy in the movie. Moreover, I was looking for Indian actors who are also Daring and Bold in real life and Kavita is one such person."
Kamasutra 3D goes on floors from December 20th onwards and is slated for a 2013 release. Meanwhile, Director Rupesh Paul is also ready with his international Horror-Romantic film called 'Saint Dracula 3D' which releases in February 2013 all over.