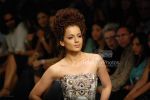 Love and hate in Bollywood is a consistent feature. Where new relations are made, old ones are forgotten forever but sometimes these relations haunt you for a longer time. There is no clue about who is innocent and who is not but Aditya Pancholi and Kangna Ranaut have called off their five-year-old relation. Aditya who is very upset with her wants the money actress Kangna Ranaut owes him back.
Aditya informs that they have stopped seeing each other and after Kangna filed a case against him, things are not as happy between them as it was year back. He claims that he had given 55 lakhs to Kangna to buy a house and stood as her guarantor for her to get a loan of 50 lakhs. Kangna has returned about 25 lakhs but there still a huge amount to be paid back. Aditya even gave her Rs 10 lakh to get her sister's plastic surgery done after the acid attack. He even confessed that he was building a house for both of them at Yari Road. He informed that they were living together at a friend's house for the past three years.
Aditya even recalls that how he met Kangna in June 2004 when Kangna didn't have any money and he took her in thinking her to be a simple small town girl. But after she started getting success, she has been behaving differently and when she went to South Africa to shoot for Shaka Laka Boom Boom, thing went haywire between them. He even informs that he saw some smses, the actress shared with a co-star and he didn't like them. He confessed that he hit her for the first time when he saw those smses. He recalls how she didn't even thanks her for getting the man who threw acid on her sister and she started running away from her.
Aditya says he saw Kangna at a premiere where she walked with the Suman family. There are rumors about the actress having an affair with Adhyayan Suman. Kangna's spokesperson denies these allegations saying Kangna is getting all these punishments for her mistakes which she did at a young age of 18. he even stated that Aditya is over jealous and used to fight with her and hit her in public and Kangna is not ready to forgive him.