The "2 States" trailer features Alia Bhatt locking lips with Arjun Kapoor and its producer Karan Johar says kissing scenes help in luring the audience. Earlier kissing scenes were not included in promos, but it has become a trend now.
When asked about the same, Karan said:
It's great these kids of the new generation are kissing on screen. It's the new ethos… but senior actors didn't do this. I like to watch kissing scenes, it's wonderful. Kissing scenes help to get opening and people also like to see it, so it's all about kissing.
The trailer was launched Friday. Abhishek Varman has wielded the megaphone for the big screen adaptation of Chetan Bhagat's bestseller.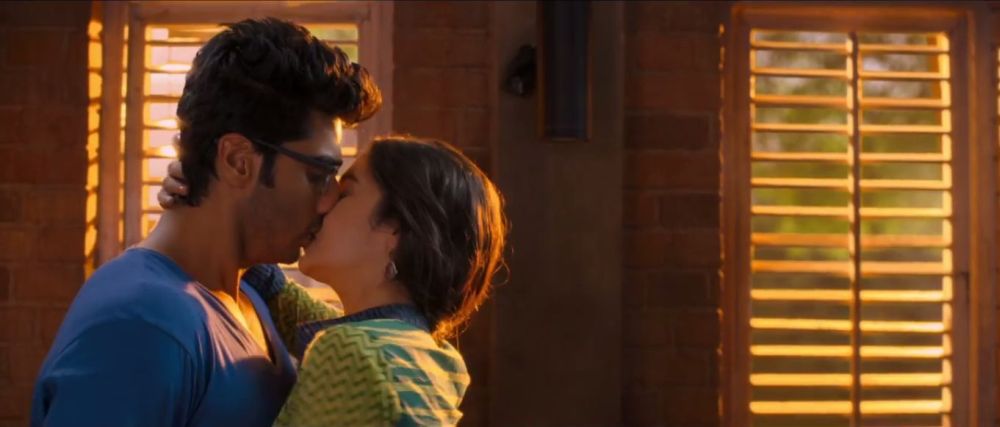 This is his directorial debut and Karan said:
Abhishek assisted me during 'My Name Is Khan' and I knew he has the sense of aesthetic. I went with my gut feeling.
It's Indian fusion look for Alia in '2 States'. First she played a glam girl in "Student of The Year", then donned the casual look in "Highway" and now in "2 States" Alia Bhatt says she will sport the Indian fusion look.
My clothes in the film has been designed by Manish Malhotra, so I didn't have to think about it. Manish gets Indian fusion look so well.
Alia told reporters at "2 States" trailer launch.
The film moves to different cities, it has different looks, so we have played a lot with the look. Her look is simple yet modern.
Alia is playing a Tamil girl in "2 States", a big screen adaptation of Chetan Bhagat's bestseller of the same name. Directed by Abhishek Varman, it features Arjun Kapoor as the male lead.
When asked whether her character will be compared to Deepika Padukone's in "Chennai Express", she said:
It's not the same at all. She is a modern girl and she speaks in Tamil only with her parents.