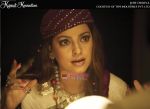 Mumbai, July 22 (IANS) The Shahid Kapur-Vidya Balan starrer "Kismat Konnection" seems to have connected with the audience as it had a encouraging opening collection all over. The film budgeted at nearly Rs.200 million collected Rs.270 million worldwide till Sunday. The movie collected a revenue of Rs.207.6 million at the domestic box-office, averaging Rs.375,000 per print.
The movie was released across 720 screens in India. The revenue collection from the overseas market is also encouraging. The movie has particularly done well in the Middle East, where it raked in Rs.11.2 million in the first three days of its release. In Pakistan, where "Kismat Konnection" was simultaneously released, had a weekend collection of Rs.960,000.
It also had a fair opening collection in the US, Britain and Australia. While in the US, the collection till Saturday night stood at Rs.9.1 million in the UK and Australia, the movie had a collection of Rs.9.5 million and Rs.1.8 million respectively.
Aziz Mirza-directed "Kismat Konnection" was released worldwide by UTV Motion Pictures with 930 prints.