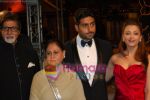 Kolkata has just found a new Bahu . When earlier this week he landed in Kolkata for the shooting of Mani Ratnam's film (tentatively titled Raavan) Abhishek Bachchan got the welcome of a prodigal son . Abhishek's father is regarded as Bengal's Jamai Babu , as Jaya Bachchan happens to be Bengali.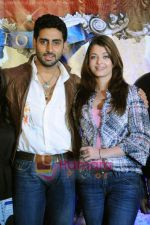 A few years ago when father and son Bachchan were shooting simultaneously in Kolkata the senior AB had said, "Earlier they cheered for me. Now they cheer for my son."
"Not true," says Abhishek. "Even today if we both come to Kolkata together the crowds will be rooting for him. This time I got a super-enthusiastic welcome because this was my first visit to Kolkata with Aishwarya."
But Aishwarya Rai Bachchan isn't even remotely Bengali !
Explains Abhishek, "I think it has to do with the very powerful work she has done with Rituparno Ghosh in Chokher Bali and Raincoat. Bengal has adopted her as a daughter-in-law. I too have done some very important films in Kolkata Ritu's Aantar Mahal and Mani Ratnam's Yuva. And I must say I got a rousing welcome in Kolkata every time. But nothing compared with the way I was received this time."
Aishwarya had been shooting gruelling scenes in Kolkata for Mani's film on the Ganges.
Abhishek describes Kolkata as a big morale booster. "Every time I feel demoralized I should make a trip to Kolkata. They just smother you in their love."
Everywhere that Abhishek and his wife go in Kolkata the crowds are sure to follow. " Mani's film and then Abhinay Deo's where Aishwarya and I come together again are sure to warmly received in Bengal." Exults Abhishek.
Abhishek who has done two Bengali films and a cameo as his mother's son in Raja Sen's Desh is open to another Bengali film. "Why not? I'm half-Bengali and very proud of it."
Apparently the Bengalis loved Abhishek in Dostana. "I'm surprised by the popularity and reach of that film. We didn't even think it would make it to the awards nominations let alone collect awards. The Filmfare award nomination that I got for Dostana completely took me by surprise. Normally only dramatic performances get nominated . But the truth is , comedy is very very hard to do. And I'm glad Filmfare realized that."
Abhishek had to skip the after-party thrown by Karan Johar because Aishwarya had a very early-morning flight to catch to Kolkata
By Subhash K Jha