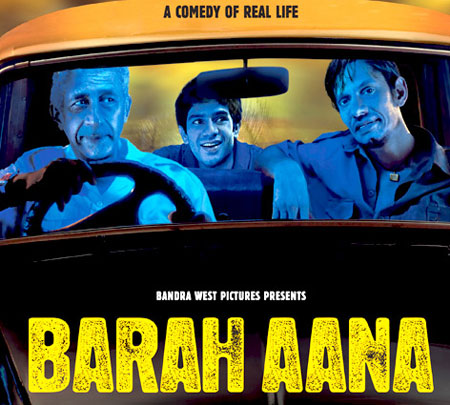 Barah Aana is a comic thriller that narrates the tale of three unlikely friends comprising of a stubborn but dependable driver Shuklaji (Naseeruddin Shah), a mischievous watchman Yadav (Vijay Raaz), and an ambitious waiter Aman (Arjun Mathur).
Rating: 3/5
Starring: Naseeruddin Shah, Vijay Raaz, Arjun Mathur, Tannishtha Chatterjee, Violante Placido
Director: Raja Menon
Driven by an unfortunate situation, Yadav stumbles upon a crime. On realizing that it is quiet a low risk way to make some extra money he lures his two pals Yadav and Shuklaji into it as well. But as money starts coming in all three of them start showing personality changes. Soon things start going out of hand and it all leads them individually to destinations that they had never planned.
Raja Menon's Barah Aana is a complete fun ride that delivers what it promises. Despite made on a shoe string budget this song less film is a watch for the brilliant chemistry and fun filled banter between it's three diverse personality characters enacted by Vijay Raaz, Arjun Mathur and Naseeruddin Shah.
The Italian girl played by Violante Placido's love angle with Aman however slows down the narrative a bit. Shot on actual locations in the slums of Dharavi, Mumbai the film has many a relatable incidents. The very beginning of the film where a living man (Naseer) is officially considered dead sets the ball rolling and the fun never stops.
The camerawork however could have been better as the low lighting at times gets a bit irritating.
Arjun Mathur who recently impressed with his act in Luck By Chance gets better scope to showcase his acting prowess this time and he succeeds.
Naseer should be lauded for encouraging new filmmakers by being a part of their projects wholeheartedly. Tannishtha Chatterjee in a small but significant role is very good. Manabanoo Mody Kotwal as the Cutlet Aunty is hilarious. But the one to watch out for in this one is Vijay Raaz. It is certainly his best performance till date.
Go for Barah Aane without any expectations and chances are you will come back with a big smile on your face.