Mumbai, July 9 (IANS) Mallika Sherawat will play the lead role in "Naagin – The Snake Woman" – the first Hindi film to be directed by a Hollywood director! Jennifer Lynch, daughter of four-time Oscar nominee David Lynch, is all set to shoot the film about a subject that has always intrigued the West – the ancient myth concerning the Nag-Naagin (snakes) relationship.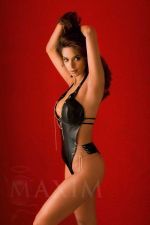 Ratan Jain of Venus Records and Tapes is co-producing it with Vikram Singh and Govind Menon. "Venus is known for its commercial family entertainers. There is lot of work happening between Hollywood and Bollywood and the film with Jennifer starring Mallika is a step towards it," said Jain in a press statement.
Commenting upon Mallika, he said: "It was a wonderful experience working with Mallika in 'Maan Gaye Mughal-E-Azam'. And hence it was natural that we take it further. She is a thorough professional. And I hope that with this film, Venus will be associated with more international films in the near future."
The film also stars Irrfan Khan. He will play a cop who has been given the task to pin down the Naagin and destroy her powers. Jennifer's last film "Surveillance", starring Bill Pullman and Julia Ormand, was premiered at the Cannes Film Festival in May this year.

Hollywood's special effects wizard Robert Kurtzman, who has worked with the likes of Quentine Tarantiono and Robert Rodriquez, has been roped in to create unbelievable graphics for the film. Madhu Ambat and Hollywood sound effects specialist Patrick Girardi are also a part of the project.
The shooting starts at various locations and sets, in the last week of July, in a start to finish schedule. Casting is currently on for the rest of the parts in the film.