Well yes, Nana Patekar sports a very toned and raw look as a CBI Officer in his upcoming film Ek – The Power of One. We hear that, Nana was content with his different look in the film but the one particular apparel that he loved was the Skull Cap better known as a Monkey Cap. The actor even asked his director Sangeeth Sivan if he could do something with it in a few scenes of the film.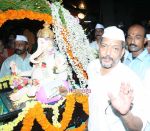 After a few brainstorming sessions on the sets, an idea struck the director! It was decided that whenever Nana was to give his visiting card, he would pull them out of his skull cap which became a mannerism.
Well guys that's Nana for you.