The extremely intense and serious actor has recently gone through an image makeover and joined Bollywood's bandwagon of the Fitness conscious. His forthcoming movie, 'Ek – The Power of One' sees him in yet another avatar. Apparently, Nana has worked very hard and built a commendable physique for his upcoming film.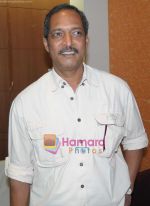 "I had always heard of Nana Bhao to be a tough task master but the person I met was absolutely contrary to his image. He has a terrific sense of humour and kept the entire unit in splits throughout" says the Executive Producer Jaswant Khera.
We hear that Nana has become so fit that on one of the shooting days, when the entire unit was on the 15th floor of an under construction building which did not have a lift, Nana sprinted with such ease that it put the entire unit to shame for even having complained to walk.
Nana Patekar is best known for his crisp and snazzy one liners that have been synonymous with the industry and his audience. Not forgetting his ability to get into the skin of the varied characters he essays.
Hats of to the Dedication we say.