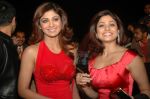 London, July 2 (IANS) Nervous Bollywood star Shilpa Shetty has had it with kissing on stage in front of Indians – a peck on the cheek is about the furthest she will go, even in London, she has made it plain.The last time she did it – during an AIDS awareness event in New Delhi with Hollywood star Richard Gere in April last year – furious Indian Hindu nationalists burnt her effigies and slapped court cases against her and Gere up and down the country.
Tellingly, Shilpa invoked memories of the Indian intolerance during a dinner held Tuesday night to celebrate and encourage diversity in Britain.Stepping in to help galvanise a charity auction – the item under hammer was dinner with British Prime Minister Gordon Brown at Wembley – Shilpa climbed up to the stage, took the mike and told her audience of London glitterati: "Come on people – this is for charity. The winner will get a kiss from me!"With memories of the Indian protests yet to be erased, she then added quickly: "But it will be on the cheek. I don't want my effigies burnt again."
Starting off on a low 100 pounds, the prospects of dining with Brown and British sporting celebrities was moving at a slow canter before Shilpa stepped in with her incentive for the worthy cause of helping diabetes testing in Britain.After being stuck on the 5,000 pounds-mark for some time, the bid was won by a young man who pledged 12,500 pounds for the dinner – and also picked up three kisses on the cheek as a bargain.
Shilpa, who won the Global Diversity Award along with British racing driver Lewis Hamilton, met Prime Minister Brown earlier Tuesday when he congratulated her.The auction raised over 63,000 pounds for the Silver Star Appeal, a charity that runs mobile diabetes assessment units.
Indian-origin MP Keith Vaz, who launched the charity last year after being diagnosed as a diabetes patient, said the money would buy the charity's third mobile unit."One of these buses will be sent to India," Vaz told IANS.
Tuesday night's auction saw a fierce bidding war for an item titled Bollywood Dreams – the heady chance to fly to India, meet superstar Amitabh Bachchan, bag a walk-on part in the movie "Teen Patti" and be shown around Bollywood City, to be followed by a calming tea with British High Commissioner to India Sir Richard Stagg in New Delhi.
It was won by Sri Prakash Lohia, chairperson of the Indian multinational group Indorama, who pledged 25,000 pounds.