Veena Malik made herself known by selling trivia on her ex-boyfriend Pakistani cricketer Asif match-fixing scandal. This whole event made her popular and she got a quick entry into "Bigg Boss" season 4 that year where she romanticized lesser known actor Ashmit Patel.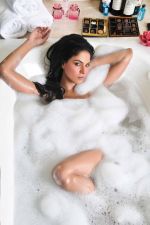 There was also a Naked Photo-Shoot by the actress for FHM Magazine for which she got criticized. Though Veena Malik always claimed the Photo-Shoot to be a 'Fake' one. The latest one to hit the Press and Media chord is an MMS that got leaked in which Veena Malik is getting very romantic with co-actor Rajan Verma. Who is Veena Malik? She is now considered to be second Rakhi Sawant of Bollywood. And who is Rajan Verma? Well, He will be strongly known after this Leaked MMS Stunt get's more noticed with Media Coverage. We tried to contact Veena Malik where we were supposed to ask questions about this 'Well-Choreographed' MMS, But our calls went UN-answered.
If Bollywood is filled with Big Actresses who are fighting for the number one spot with their films, Then there are also ambitious small-time brain-less celebrities such as Rakhi Sawant, Veena Malik, Sherlyn Chopra, Rozlyn Khan etc who try their best to get under the glare of the media to further their stay in the industry. They can be called 'Ambitious' and 'Brain-Less' as they can get to any extent to grab eyeballs.