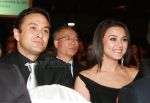 Preity is furious and why? There is a rumor surrounding her and boyfriend Ness Wadia. Some reports have been flooding the tabloids that she is going towards a breakup with Ness. She was reportedly getting closure to Yuvraj Singh, the captain of King's XI Punjab, the team which she and Ness owned.
The dimpled beauty is ready to refute any of these allegations with a vengeance. She calls these rumors as silly and even states that she has been paying a price of being normal on the filed. She even claims that her being a female is the reason behind such rumors as people tend to take away certain rights from women. Preity is the modern woman who wants to be respected for her work and she wants people to respect her efforts on the sports field as well.
Preity considers her team to be her family and the coach to the junior most player is important to her not just the captain. She has stood for the team even when they won or when they lost. She confesses that the thrill when her team was playing knew no bounds. She feels the same excitement when her film is released. She considers it instant karma to get such feeling out of her work. She chose her team because it belongs to north and most of her players came from Punjab, Haryana and Himachal Pradesh. She informs that her team's motto was to live Punjabi and play Punjabi. For her a good moment for her team was to score a six and to loose a wicket was a bad moment.
Preity is back to Bollywood and is tapping her foot to the choreography of Shiamak Davar for the Unforgettable tour of the Bachchans. For the next two months she would be busy with that performing in cities like Toronto, Trinidad, LA, London, Chicago, San Francisco, Houston etc. She had a great time going on the best tour so far with Shah Rukh Khan's Temptations. She was accompanied by Saif, Rani Mukherji, Arjun Rampal, and Priyanka Chopra.
She informs that she will be with the Bachchans & Riteish through out. While Shilpa joins them in London, Madhuri will be there in US and Akshay Kumar will join them in Toronto. Her upcoming films include Heroes and Har Pal. She is also working in a Deepa Mehta project titled Heaven On Earth. She also has an English film titled The Last Lear which has not yet been scheduled for a release.
Preity Zinta hopes to start her own blog sometime soon. This will put her to the types of Aamir Khan and Amitabh Bachchan. She would rather write her own stuff on the website than giving interviews. She wants her fan to read what she provides there rather than depending on the media. She intends to learn to be tech savvy enough to do her own blogs. She plans to have a section called ay Back Time and she intends to write back about the journalists who manipulated her interviews.