Preity Zinta has not charged a single penny from the Khan's for the ?brief appearance she makes in Sohail Khan Productions Main Aur Mrs. ?Khanna.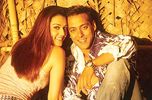 A source said,
"Preity and Salman have been good friends. The ?two have done some of the most remarkable films together. Chori Chori ?Chupke Chupke was hit. Jaaneman was a hit too."
Preity feels that Salman is man with a heart of gold.
"Salman has stood by Preity whenever she needed him. So this time when they? approached Preity to do a brief appearance in Main Aur Mrs. Khanna, Preity said yes instantly. Preity let money matters take a back seat and said that she was just happy being a part of that film,"
said the source.