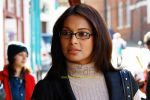 It is not everyday that ex-lovers are ready to share a picture for the shutter bags, especially if the shutter bags are of the top news channel and publications. It did happen and after a very long time, we got to see the pair of Dino and Bipasha, who had rocked the silver screen with the blockbuster film, Raaz. Unfortunately Raaz-2 could not make much and poor Adhyayan and Kangana suffered for it. Anyways that is not our point of view.
At the launch of Gold's Gym at Pali Hill, Bandra we caught Dino and Bipasha and made them pose together for our cameras. It must be recalled that Bipasha was playing the love interest of Dino once upon a time.
Bipasha Basu and Dino Morea dated for more than two years before breaking up in mid-2002. They met when they were modeling and were one of the most talked about couples of Bollywood. Incidentally, Dino was on Bipasha's side when she first made her debut with Ajnabee. After that, they paired up for one of the biggest hits of 2002 – Vikram Bhatt's Raaz. They mutually agreed to break up, but have remained friends ever since. Their still so close friendship had raised eyebrows in the Industry. As time passed by Dino went on to date designer Nandita Mahtani and Bipasha started dating John Abraham who made his debut in Jism with her. Currently Bipasha has still been sticking to John, although there were rumors about their breakup due to the famous Christiano Ronaldo-Bipasha kiss. The couples still stand tall together. On the other hand Dino has moved on from Nandita to Lara Dutta.
If rumours are to be believed then Dino is keen to work with Bipasha and has also asked a couple of corporate houses to work on a subject around them.
We wonder what will happen to these young stars if they keep changing tracks so frequently. Anyways it was nice to see Dino and Bipasha pose together after such a long time. Hope John and Lara are not watching.