RACHNA SHAH PERFORMED HER STUNTS IN 5″PENCIL HEELS. Director Vivek Sharma narrated the role to Rachna she quiet liked it she is playing the negative lead and will be seen doing lots of action in the film , the action director of Superhit Gajini [Tamil ver] – he has choreographed action for 250 films.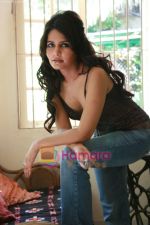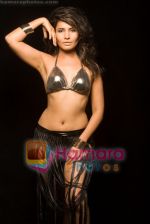 Rachna was looking forward for the action sequences
But the hitch was she says …since both of my-costars were 6 feet 2 inches. Jacky Bhagnani and Rahul Dev and the scenes were with them Ideally I should have done all my action scenes on a patla. Even if I really wanted to beat them up – I wouldn't have reached them quips Rachna so of course I wore 5" pencil hills – quite stylish huh. definitely not recommended FOR real action] I never felt shorter in my life. But when i performed the action in those heels, it was stylish though matched up to their height but i had a tough time laughs Rachna
Rachn says "The funny thing about action is – if you have never done it before it will be between bad dancing and a joker's tactics. Like in acting – impeccable details have to be dealt with. Every muscle has to be in control else you look like a slouched sack. "remincing .
She has been kick boxing for a year now. Have trained with action director alan who really helped me correct my boxing and punching.says rachna Taught me how to use stamina correctly. Taught me that attitude and control is a MUST !
Now this experience is something which will remind me for style says Rachna