Raagini Nandwani, made her Bollywood debut with Adhyayan Suman in Dehradhun Diaries,and then won hearts down south starring THALAIVA opposite Tamil superstar Vijay. When the movie released she got an astounding response from the audience.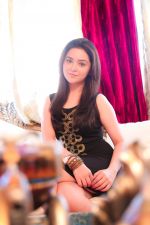 She has many mouthwatering offers but she doesn`t want to rush into any, at the moment. According to the sources, the starlet has just bagged a role in a highly anticipated Marathi flick. It`s based on the life of Swami Samarth. Though she is playing a cameo, she made no fuss about it. The reason being she is deeply attached to him and follows his teachings dearly.
An insider informs us that Ragini is so familiar with his stories that her inputs helped the script writers to a good extent and nothing was lost in translation. Many crew members were not well informed about the story but a chat with Ragini and the script writers cleared their queries
Her role is of utmost importance to the movie. She is said to be the surprise element of the movie and gets the movie going. The director too, was very pleased with the actor, for the hard work she put in. She said, "For most people its about making money and entertaining the masses. But, for some it`s about knowledge, experience and hard work. Ragini comes in the latter one. The environment that she creates on the sets gets is remarkable. She keeps everyone including me, on our feet 24 x7.
About The Marathi MOvie "Krupa Swaminchi"
"The movie is based on Guru Shri Swami Samartha and it is expected to see few big names from Marathi industry".
Previously the same production house produced the superhit Marathi Serial Krupa Sindhu telecasted on Mee Marathi. The show was one of the highest TRP grosser of its time. It was based on Shri Swami Samartha and Mr. Praful Samant played the role of swami in the serial. Now Praful Samant is playing swami again in movie "Krupa Swaminchi"