Sanjay Leela Bhansali's much-awaited film 'Ramleela' trailer was unveiled Monday by the director and the film's lead pair of Deepika Padukone and Ranveer Singh.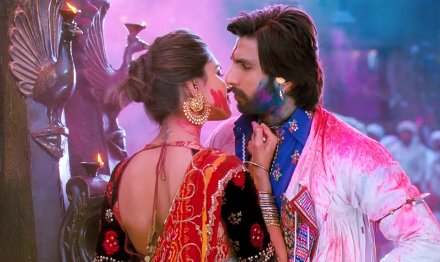 Deepika Padukone, who is playing Leela in the film, said:
Leela is the female version of Ram, who is very vulnerable but emotionally strong.
Ranveer described his character of Ram as raw, energetic and intense young boy from Gujarat.
For the trailer launch, Sanjay Leela Bhansali chose a Gujarati theme – the PVR complex here was completely decorated in Gujarati style.
A special rangoli of the poster was made and the cinema hall was decorated with earthen lamps.
Ushers were dressed in traditional Gujarati costumes, while the food menu had the delicacies like dhokla and buttermilk.
Directed and produced by Sanjay Leela Bhansali, the film is said to be an adaptation of Shakespeare's epic love story "Romeo and Juliet", set in violent times.
The film's trailer is posted on youtube.