By Uma Ramasubramanian
The heartthrob of many, Ranbir Kapoor's heart throbs for true love. The young star says he treats love as sacred and wants to keep it on the highest pedestal.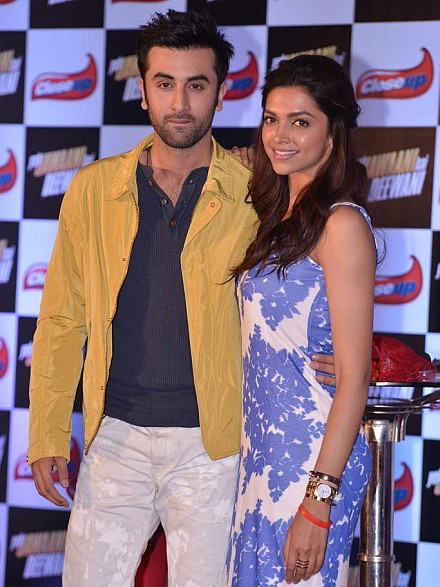 The 30-year-old, one of Bollywood's most eligible bachelors, does not intend to settle for an arranged marriage.
Today's new generation takes its own decisions. I don't think I will go for an arranged marriage, but I am not against arranged marriages. Personally, love is very important for me. There are lots of ordinary things in life, so love should be extraordinary. I hope I achieve that.
… Ranbir Kapoor told in an interview. He is young and successful. His fans want to know whom he will marry.
Currently, the "Jawaani Deewani" star is reportedly crazy about Katrina Kaif. They worked together in "Ajab Prem Ki Ghazab Kahani" and "Raajneeti".
He neither accepted nor denied the relationship, but said: "I am single till I get married."
If I am in a relationship and if I talk about it and in case my relationship doesn't work, that puts a lot of pressure on the girl and her reputation. People get very judgmental and our society judges girls a lot.
Ranbir Kapoor wants to keep his love life under wraps but says he will share the news of his marriage.
Of course, if I get married, I will not hide it, or even if I want to live my life like a free bird. I have realized that as much as I can, I should hide my personal life and save it and not make my life a reality show. I will try my best.
When asked if this was the lesson he had learnt from his previous relationship with Deepika Padukone, he replied: "Yes"
The last time when I was in a relationship, I used to talk about it, but the spotlight gets to your personal life. Wherever you go people ask the same question. At times it gets difficult. You work so much on a film and people only want to know about your personal life. I feel bad that they don't talk about your work, but it's part of my job.
Pictures of Ranbir Kapoor and Katrina Kaif were recently leaked, but he says he is not upset about this.
I don't get upset about anything. I am an actor and today everybody is a photographer as everyone has a camera. People want to know about you. When I was a child, even I wanted to know about my favorite actor. So they will write about it.

Yes, I feel bad when everybody is talking about your personal life, but it's part of my business. As an actor we always want people to write about us and talk about us. And when they are actually writing, then we say don't write about this. I am an actor, I am a public property. I don't own myself, public owns me.
Rumors are not good for anyone. But Ranbir Kapoor gets ample support from his parents – Neetu Kapoor and Rishi Kapoor.
Thankfully, both my parents are from the film industry and a lot has been written about them when they were dating each other. Of course, they feel bad when so much of negativity happens. At times, of course, they (parents) must be feeling bad, but they don't say anything. They are very supportive.
Ranbir Kapoor is now gearing up for the release of his new film "Besharam".