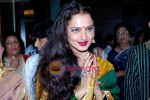 Rekha never had a son or daughter to groom to become an actor. But her nephew is all set to fulfill what would perhaps be her long time dream. Yes , Rekha's nephew is being launched by film critic-turned-director Khalid Mohamed ( who's made movies like 'Fiza', 'Tehzeeb', 'Silsilay') in a film produced by Vikram Bhatt.
26 year old Naveed is a San Francisco-based investment banker.
Naturally Rekha is in charge of grooming him for B-Town.
A source has said, "As Naveed was born and bred in the US, he has a heavy Yankee accent. Rekha has packed him off to a diction class to help him lose the accent. She also wants Naveed to go through the rigors of acting".
To make him get a feel of Bollywood, she's not accommodated him in her Bandra bungalow. He lives in a one-room studio flat at Pali Market.
The source adds, "When Vikram saw Naveed's pictures, he thought he would fit the bill for Khalid's venture which begins soon. Vikram spoke to Rekha and fixed up a meeting."
Vikram has said, "We are talking to Naveed. At the moment, I can't reveal more about the film. There will be both known and new faces."
We understand the mysterious natures of Bollywood filmmakers. As of now, there's a lot to expect from Re's nephew. Let's wait and watch.