It is learnt from a close friend of Shilpa Shetty that she has plans to hold a Holi bash for her IPL team Rajasthan Royals at Mumbai's star hotel, Grand Hyatt. Team captain Shane Warne is learnt to be the biggest attraction for the same.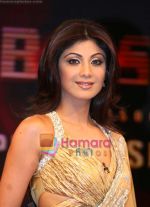 "Shilpa is throwing a Holi bash on March 10th at the Grand Hyatt. Presently Shilpa and her beau Raj Kundra are busy making sure that they get the menu and the theme of the party correct. But the Holi bash is going to be a colourless one as perhaps she wants to ensure that none of the designer outfits of guest coming for the party get ruined. But there is going to be a lot of bhang for her team members to keep the spirits high. Since most of her IPL team members are from abroad, Shilpa has plans to include various cuisines as well to suit the international players. But the menu will also include a lot of sweets associated with Holi such as Jalebis, Gulab Jamuns and Bhang ka ladoos." the close friend of Shilpa revealed to us.
This year however, her team will be devoid of any Pakistani players that were a part of the team in the last year's season.