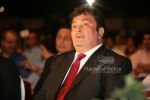 In Raj Kapoor's classic' Mera Naam Joker', Rishi Kapoor played the younger version of his dad. In the film, which was made way back in 1970, Russian artist Kseniya Ryabinkina was one of the leading ladies. The two co-stars are now set to come together after almost 40 years in a movie titled 'Chintu Ji'.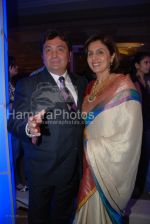 In 'Mera Naam Joker', Kseniya had played a Russian trapeze artist with whom the character played by Raj Kapoor falls in love, but the two characters don't unite in the film.
In 'Mera Naam Joker', Rishi Kapoor had scenes only with Simi Garewal and his father Raj Kapoor had closer interaction with her. But in 'Chintu Ji' the twosome will interact.
The movie incidentally derives its name from Rishi's nickname and is partially based on his life.
It is being made by debutant Ranjit Kapoor.
Rishi has said, "Kseniya (Ryabinkina) will be seen again in 'Chintu Ji'. Incidentally, this will be only her second Hindi film since she appeared in 'Mera Naam Joker'. In 'Chintu Ji', she has a very pivotal role to play as she brings along immense metamorphosis in the life of the character that I play."
He's added, "It was a surreal experience because I was just a kid in 'Mera Naam Joker'. I guess it was a great idea to get her on board in 'Chintu Ji', which is a film that is part fiction, part reality and part illusion when it comes to being based on my life."
Rishi was last seen in Zoya Akhtar's 'Luck By Chance' and is currently shooting for 'Do Dooni Chaar', the comeback vehicle of his wife Neetu Singh and will then work on 'Chintu Ji' which is about a film star (Rishi Kapoor) who wants to contest elections from his hometown but isn't quite serious about politics. At heart, he is still a brat that he has been throughout his life and his only motive is to mint money and make merry. But his entry in his village ends up making life better for all there, even though it is more by default than design.
Rishi added, "When the makers of the film approached me, they were very confident about the script. They specifically told me that that film was written keeping me in mind. They seem to have done thorough research of my life. But the film is not about the journey of Rishi Kapoor, a film star who was hero from the 70s to the 90s. It is about the moment in the life of this film star where he tries to do something new. It's his stint in politics which is covered in 'Chintu Ji'. It was nice to see shades of my own life in the film's narrative."
Ranbir's dad has more to reveal to the world. Let's wait and watch.