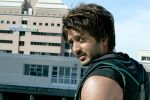 Riteish Deshmukh has emerged as one of the finest young comic actors in B-Town over the last couple of years with good performances in movies like 'Masti', 'Bluffmaster', 'Dhamaal' and 'Hey Babyy' etc. And now the actor reveals who his inspiration to perform like that has been.
It's none other than the actor who's done a lot B-Town comedy and dancing for more than two decades-Govinda. This is one young actor who really idolizes Govinda.
In the film 'Do Knot Disturb', Riteish is getting a chance to share screen space again with his idol and is mighty happy about it.
He's said, "I think he is the best comic actor. In fact, he is one of the best and most versatile actors we have because he portrays every emotion flawlessly. I have always wanted to be like him and act like he does. Govinda is the king of Comedy and is the foundation of commercial comedy in India".
He's added "I have always wanted to be like Govinda and act like he does. But after working with him, I realized that it is not only tough but almost impossible to be like him."
Let's hope the film which stars the guru and the chela does really well. Otherwise this kind of sugary talk will prove to be of no use at all!