It wasn't tough for Riteish Deshmukh to play a shy lad in Sujoy Ghosh's 'Aladin' as he says he was very much like his onscreen character during his own school days.
Aladin, produced by Eros International and Sujoy Ghosh, is a contemporary look at the classic fairy tale, where Riteish plays the title character.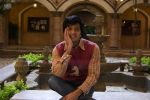 "When Sujoy told me that I play a young, introverted boy in Aladin, I could perfectly relate to it as I was myself a very quiet boy during my school days. I didn't have many friends and would mostly keep to myself. "
Riteish confesses.
In this contemporary version of the classic tale, Riteish will be seen playing a reclusive high school boy who carries an old, tattered leather bag with him all the time.
Speaking more about his character, Riteish said,
"Aladin is so dumb and lost that when Genie asks him for his 3 wishes, he doesn't even know what to ask for. He's a complete loser!"
However, playing Aladin was like a dream come true for Riteish who was always fascinated by the famous fable. Besides, he also got a chance to fulfill his desire of working with Big B!