In a unique first-of-its-kind endeavour, Studio18, the overseas distributors of Vipul Shah's keenly awaited London Dreams, will bring the stellar cast of the magnum opus face-to-face with the US media by way of a real time video conference.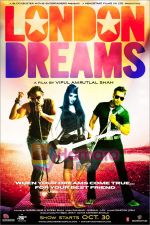 Being held between Mumbai and New York, the conference will see Salman Khan, Ajay Devgan and Asin, along with supporting stars Rannvijay Singh and Aditya Roy Kapoor and producer-director Vipul A. Shah interact with media from Network 18's Mumbai studio where a stunning set, based on the theme of the film, has been erected.
In New York, the conference will take place at the NYVC in mid-town Manhattan at 12.30pm EST.
As the conference is being videocast, media from Canada and outside the New York area would also be able to login and engage with the stars.