Mumbai, July 25 (IANS) First Sanjay Gupta replaced his good friend Sanjay Dutt with Irrfan Khan in his autobiographical film "Alibaug" and now is he set to scrap the love song that was recorded in the Munnabhai actor's voice. "We'll have to get it done by a professional playback singer now. It won't be correct to have Sanjay's voice for Irrfan," Gupta told IANS.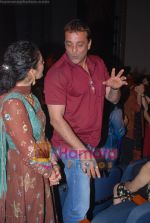 So what happens to the footage and song featuring Sanjay? "I guess it is of archival importance. One day I hope to sit down with my near and dear ones and look at what we shot and recorded as proof of how much Sanjay and I shared once," said Gupta.
But Sanjay's special appearance in "Woodstock Villa" was retained. "That's because the song was filmed on Sanjay. Here we cannot go in the reverse direction and have Irrfan singing in Sanjay's voice," Gupta said.
Irrfan says he wouldn't mind lip-syncing to Sanjay's voice. "But the only problem is Sanjay Dutt has such a strong personality and image, and a voice to match. Audiences will immediately identify his voice and refuse to accept it as my voice. So I'd think a playback singer for me would be far more preferable," said Irrfan.
"Alibaug" isn't the only White Feather film where Irrfan has replaced Sanjay. The role in "Acid Factory" that Irrfan did was also written for Sanjay. In fact, promos with Sanjay were shot.
Does Irrfan enjoy replacing Sanjay in Gupta's productions? "I don't see it that way at all," protested Irrfan. "No one can replace Sanjay Dutt. He has such a unique personality voice and body language. I can only bring my own personality into the roles and make them something quite different."
— By Subhash K. Jha