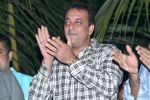 Mumbai, July 12 (IANS) Sanjay Dutt is all for mending broken bridges of the past. The actor, who reportedly had differences with Anil Kapoor earlier, took time off this week to do an item song for his production "Shortcut". The song, which also features Anil and Amrita Rao, was shot at breakneck speed.
"Sanjay rushed back to Mumbai for two days from the Bahamas only to shoot the song for Anil's film," Dharam Oberoi, CEO of Sanjay Dutt Productions, told IANS. "The song couldn't be completed in time. Sanjay was to leave for South Africa to shoot for another film on Wednesday night. But he postponed his trip to South Africa by a day to complete Anil's song," added Oberoi.
The item song was choreographed by Bosco-Caesar. Many years ago, Anil had apparently made some uncharitable remarks about Sanjay's family, though now he completely denies them. But Sanjay, who according to Oberoi is booked until 2009, is keen to wash away all the bitterness of the past.
What's more, Sanjay refused to take any money for the item number, though Anil insisted on paying. "Finally, Anil's wife Sunita found a way out. Being a jewellery designer she presented Sanjay's wife with a diamond necklace, earrings and bangles from the Sunita Kapoor Collection," Oberoi said.
The item number was wrapped up on Thursday and Sanjay flew off for a long schedule in South Africa a day late.
— By Subhash K. Jha