Prakash Jha's socio-political thriller "Satyagraha" managed to gross Rs.11.21 crore on its opening day. It is said to be the highest ever opening for the filmmaker.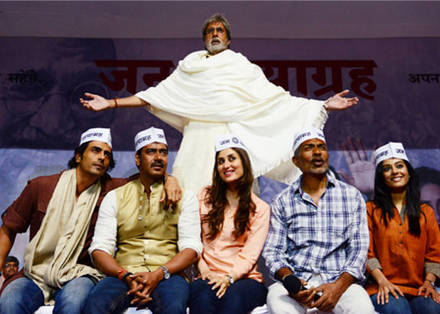 The movie, which features a stellar cast of Amitabh Bachchan, Ajay Devgn, Kareena Kapoor, Arjun Rampal, Manoj Bajpayee and Amrita Rao, released Friday. Made at a reported budget of Rs.50 crore, the movie is said to be getting a mixed response from critics and viewers.
However, officials at UTV Motion Pictures, are hoping for a good weekend collection.
"The film has taken a good start at the box office. It is being well-received by viewers all across age groups. As word spreads which is positive – we expect significant growth over the weekend," Gaurav Verma, director, India Theatrical Distribution, Studios, Disney UTV, said in a statement.
"Satyagraha" reflects the uprising of the middle-class against a corrupt and unjust system.