Many celebrities like Kangana Ranaut, Gulshan Devaiah, Shweta Tripathi, Vivaan Shah and filmmakers Siddharth Roy Kapur, Aneez Bazmee, Navdeep Singh, Abhishek Chaubey, Vikas Bahl and other celebrities from the film industry attended a special screening of director Anurag Kashyap's thriller Raman Raghav 2.0 last night.
The film director Anurag Kashyap and starcast were also present at the screening.
Raman Raghav 2.0 stars Nawazuddin Siddiqui, Sobhita Dhulipala and Vicky Kaushal. Nawazuddin plays a character based on the real-life psychopathic serial killer Raman Raghav from the '60s. The film will release tomorrow on 24 June.
At the screening Nawazuddin Siddiqui, the lead actor of Raman Raghav 2.0 said:
I am confident about this film. If you consider the film's trial at Cannes film festival, we received a standing ovation there. So definitely for the audiences here I am very confident because the product is good.

We have put in a lot of hard work. It remains to be seen how it gets response here but I hope people here will like it.
Nawazuddin Siddiqui is happy about his performance being compared to Hollywood actors such as Anthony Hopkins and Heath Ledger. Regarding such compliments.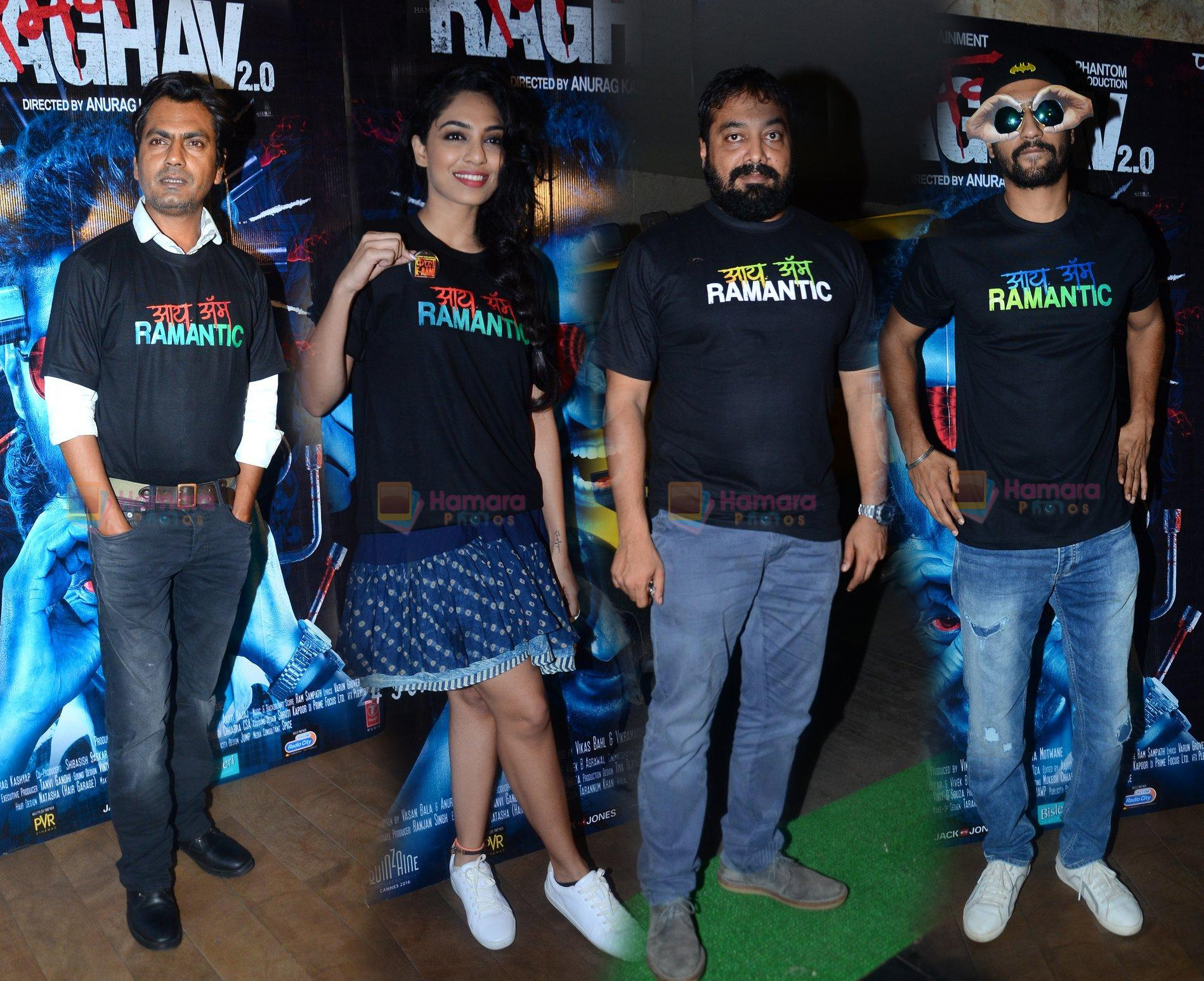 About the compliments that are coming his way for his performance, Nawazuddin Siddiqui said:
I was compared to Anthony Hopkins and Heath Ledger. They are such big artists I don't have the same status as them. They have written it in the reviews. It seems so huge for me. It's great, thank God.
Siddharth Roy Kapur has worked with Anurag Kashyap earlier in Dev.D. And ever since that association, Siddharth has become a fan of the works of Anurag Kashyap. Siddharth Roy Kapur, at the screening of film Raman Raghav 2.0 said:
Raman Raghav 2.0's" trailer is spectacular, very interesting and intriguing

I am very excited. Anurag Kashyap and our relationship is quite old now. We made 'Dev.D' together and since then I have always been a fan of his work.

What I admire about Anurag is that he is not scared of taking risks. Some risks work, some risks don't. But he never stops trying and that I think is most amazing about him as a filmmaker.
Vikas Bahl, one of the producers of the film as part of Phantom production house, said:
Anurag Kashyap is a strange filmmaker. There is no other filmmaker who narrates the kind of stories that Anurag does. It is interesting if someone has their own unique stories to tell. And Anurag, to me, is one of the most exciting filmmakers.
Photos from this event:
Kangana Ranaut
Sobhita Dhulipala
Nawazuddin Siddiqui
Vicky Kaushal
Anurag Kashyap
Shweta Tripathi
Siddharth Roy Kapur
Gulshan Devaiya
Anees Bazmee
Vivaan Shah
Abhishek Chaubey
Navdip Singh
Vikas Bahl