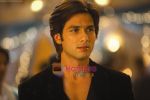 Shahid Kapoor who was last seen in Aziz Mirza's Kismat Konnection will now be doing double act in Vishal Bharadwaj 'Kaminey". In this film he will play bad man named as "Charlie" who is selfish and wants money.
We spoke to our source from UTV who gives details about Shahid Kapoor's role and more.
"Shahid has really done a great job in his new role of Charlie and Guddu and will surely be remembered as one of his greatest role ever. Kaminey is the story of identical twins. Both want to make big in their life and so in the race of life, Charlie goes on the negative side. He meets Sunil Bhope, who is a shrewd politician and Priyanka Chopra's (Sweety) brother, who misuses Charlie and over course of time he becomes a bad man."
Further our source told us that, "Vishal has really done a splendid role in his screenplay as for the first time it's his original screenplay and not adapted by any Shakespeare novels while Guddu is a chocolate boy who also wants to acquire money and go ahead in life but through hard-work and honesty and so in course of time the two meets together."
"Kaminey" is quite an interesting film as its socio-political drama, in which Amol Gupte is debuting as main negative character with Shahid Kapoor in a double role. Not only this, you would witness a lip-lock scene between Priyanka Chopra and Shahid Kapoor for the first time. Recently a song named as "Tan Taana" was sung by Vishal Dadlani and Sukhwinder Singh and it was being picturised on both Charlie and Guddu. The film is releasing on 5th June, 2009 and we are hoping that this won't repeat the debacle of Kismat Konnection.