When the event ended yesterday, dated the 26th of March, 2009, all I could say was 'wow' and all night what I could just think of was the Shiamak Davar and his new line of collection of Reebok. What a night it was. The best I have attended till date. The event was sexy, glamorous, cool, fantastic, mind blowing and the adjectives continue to flow in favor of the greatest dance guru on Earth, Shiamak Davar.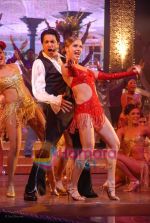 Hussian was the prefect host, looking prefect in a black jacket and when he said that now the performers of Shiamak will take over, I had no idea that these students would rock the event to its core.
The students started off with a Latin song showing the utmost body movements from head to toe. Later the Reebok fashion show was took place and top models from Carol to Nethra walked the ramp in sexy yet stunning gyming outfits from Shiamak's collection. A mind blowing gym free exercise cum dance performance was made by Shiamak's students including the girls who made people blow whistle and cheer for them. Even small children performed on rap songs and people sitting in the audience side could just not stop cheering for them. What took me a back was the last performance where Shiamak himself sang a beautiful song and people who came on the ramp were handicapped children who tried to dance and show different movements and Shiamak made it clear through his highly intensified song that 'everything and anything is possible'. This act on the ramp could just not stop Amitabh Bachchan from cheering aloud from his front row seat along with other celebs like Abhishek, Dia Mirza, jacky Bhagnani, Rupali Ganguli, Shubh Mukherjee and many more.
The event truly swept away all hearts and touched each one's soul portraying a very clear message, besides the Reebok collection opening, and that was Shiamak's tagine "HAVE FEET, WILL DANCE".