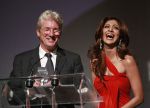 New Delhi, July 3(IANS) Actress-cum-yoga guru Shilpa Shetty is now learning to play the violin for her role in Sunny Deol's "The Man"."I have to play the violin in 'The Man' and to make it look real, I am taking lessons. Trust me, it is very difficult to play the violin. I am having a tough time. My instructor tells me that it is the most difficult instrument to play and he is quite right," said Shilpa in a press statement.
Although Shilpa is finding her lessons tough, her instructor Sandeep, who is based in Goa, says he is impressed with her sincerity.
"Every evening after pack up, Shilpa takes two hour lessons to play the violin. She is shaping up to be a very dedicated student," he stated.In "The Man", Shilpa is portraying a girl who rises to instant global stardom – very similar to her real life experience.
"Her character has an interesting side to it – she is a violin expert just like pop sensation Vanessa Mae. Her violin playing portions in the film have been styled just like a Vanessa Mae video. Since Shilpa wanted to lend authenticity to her character, she decided to learn to play the violin," a source close to the actress stated.
The actress was last seen in "Life… In a Metro".