Thumbs up to Pritam Chakraborty for letting his creative instincts run and not rust. He has churned out a thumping album of 12 songs with a Punjabi flavour rather than his usual soft rock.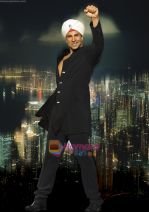 Film: "Singh Is Kinng"
Music Composer: Pritam Chakraborty
Lyricist: Mayur Puri
Singers: Daler Mehndi, Neeraj Sridhar, Labh Janjua, Suzie Q, Mika Singh, Shreya Ghoshal, Rahat Fateh Ali Khan, Snoop Dog, Akshay Kumar, Style Bhai, Ashish Pandit, Hard Kaur, RDB
Hard Kaur renders "Bas ek kinng'" with Neeraj Sridhar, Mika Singh and Ashish Pandit. The rap comes out pretty well in the renditions and lyrics. A pumping piece of music, it has already become chartbuster.
Punjabi to the core, "Bhootni ke" couldn't have been sung by anyone other than Daler Mehendi. Lyricist Mayur Puri has ensured that each and every word of the song is meaningful. This track is likely to become a huge hit in Punjab.
Next, "Jee Karda" sticks to the Punjabi theme with bits of western music immersed into it. Labh Janjua and Suzie Q render it with full gusto. It is a fun track.
"Talli hua" may not be a show stealer but would definitely find fans. Labh and Neeraj croon the song. The Punjabi base remains in this pepped up, high-on-life track.
The entire lot of fun, chaos, swinging and energetic numbers finally comes to an end with "Teri ore". A completely romantic song, it has minimum Punjabi influences except in certain areas. Shreya Ghoshal and Rahat Fateh Ali Khan make an unusual, yet commendable, team in this track. At places it reminds you of numbers from "Namastey London".
American rapper Snoop Dog renders "Singh is king" along with RDB and Akshay Kumar. A heady mix of western and Punjabi elements, the number gives due credit to each of its singers, each of whom have done a good job.
In short, Pritam has delivered a power-packed album.
— By Meghna Menon