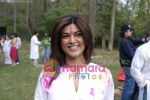 Randeep Hooda is mighty upset with ex-girlfriend Sushmita Sen. He thinks she's saying nasty things about her forthcoming release 'Karma Aur Holi' which has him opposite her, without any valid reason.
Sushmita has apparently alleged that the producers "promoted the film by sending out sleazy stories" and demanded that her bedroom scenes with Hooda be deleted. There were also rumours that she made it clear to the producers that she didn't want Randeep around if they wanted her to promote the film.
She even told an entertainment portal that it's "not a dignified film". She was reportedly upset with the post production especially with her love-making scenes with former boy friend Randeep Hooda being aired in the film trailers.
Hooda has finally decided to speak up.
He's said, "If you don't want to promote it [the film], don't promote it, but don't go out of your way to badmouth the film. It's highly unethical and absolutely unprofessional. I don't see any sleaze promotion. By not promoting the movie, she is promoting it even more… so that just defeats her purpose. She encouraged me to be a part of the promotion before changing tack."
It's not just Randeep but co –star Suchitra Krishnamoorthy has also decided to diss the Former Miss Universe Sen . She has vented her frustration in her blog.
The ex-wife of director Shekhar Kapoor informed how some of her scenes from the script were chopped off because of Sushmita.
She's stated, "If she found it undignified, she should not have signed the film. Why become a part of the project when you are not convinced about it. I am not going to be told by anyone that I am a part of something sleazy. She made unusual demands during film's shoot. She would insist on re-shooting the entire scene involving her and waste everybody's time, money and efforts."