Some would go so far as to say that in the landmark year when Britain's Royal Shakespeare Company is marking the 400th death anniversary of William Shakespeare, the Indian actress Ayesha Dharker has won "the equivalent of a Nobel Prize in her field". She features prominently in all the RSC's posters, having landed a key role in its main offering in 2016. And Ayesha herself responds: "I have fallen in love with the RSC — completely."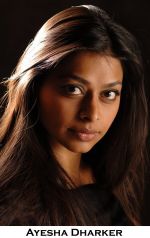 That's easy to understand, not simply because the RSC has cast her in the crucial role of Titania, Queen of the Fairies, in its current production of A Midsummer's Night's Dream, but also because it is a very political organization.
And like the RSC, almost certainly the most prestigious drama group in the world, Ayesha believes passionately in the political power of theatre, not simply to entertain middle class folk who can buy the expensive tickets (£30 or more in Britain), but to transform the lives of disadvantaged children.
The RSC has also been very political in the way it has deliberately gone out of its way to cast non-whites in central roles — and Ayesha is clearly one of its favourites.
She outlines why she thinks Shakes-peare and art generally should be "accessible for everyone. All art is political and you have to embrace that, be proud of it and take responsibility for what we mean when we put on a piece of art. It may be good; it may be bad but you have to know what you are trying to say."
She desperately wishes there was something like the RSC in India. "That would be a dream for me," she sighs.
She is at the Marlowe Theatre in Canterbury, talking in the lunch break before rehearsals and the evening's performance in front of a full house.
She is wonderfully eloquent and her voice is soft and expressive, which is why she has been sought out for
everything from Shakespeare to soap, radio and musicals.
To mark William Shakespeare's 400th death anniversary, the current production of A Midsummer Night's Dream will begin and end in Stratford-upon-Avon, but in between tour 12 cities. In what's seen as a radical experiment, in each city six actors from a local theatrical group will perform the roles of the "Rude Mechanicals" who put on a play within a play. Meanwhile, Ayesha's "fairy train" will be made up of 10 children, aged seven to 12, from a local school. "Some of the children are tiny," whispers Ayesha, who is herself 5' 1¾".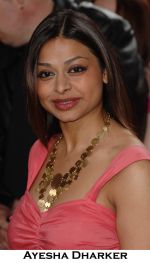 She is 38 now with nearly three decades of acting behind her but "I remember I started working when I was eight and so feel affinity with kids that age".
By the time the experiment ends on July 16, the RSC's 16 professional actors will have worked with 14 amateur companies and 58 groups of local schoolchildren over a five-month period. This explains why the RSC has called the production "A Play for the Nation".
All this also means that Ayesha is engaged in a never ending process of rehearsals so that the children, who have been practising in their own classrooms, don't freeze when they appear on the real stage.
"I am a workaholic," admits Ayesha. "I am literally working every hour God sent. And I love it because we are working with local amateur groups and with local children. And every two shows we have a new group of 10 schoolchildren. They are part of my entourage."
Her own Titania has received warm reviews from the critics. "Ayesha Dharker is luscious as the Fairy Queen," enthused Quentin Letts in theDaily Mail.
The London Evening Standard said: "Ayesha Dharker and Chu Omambala make a seductive centrepiece of Titania and Oberon …. The nation is in for a treat."
The Guardian observed: "There are two lovely moments towards the end: in one, the tension between Ayesha Dharker's sexy Titania and Chu Omambala's brooding, regretful Oberon dissipates and they are reconciled with tenderness."