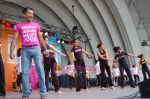 Toronto, July 29 (IANS) The organizers of the annual South Asian Masala! Mehndi! Masti! show here claim to have established a Guinness record by conducting the world's biggest-ever dance class, attended by over 3,000 people. Directed by instructors from the local Shiamak Davar Indo Jazz Dance Movement, the mega dance class attracted thousands of dancers Sunday.
Children, young boys and girls, men and women, South Asians and whites – all joined the free-for-all class to sway to top Bollywood numbers at the Canadian National Exhibition (CNE) grounds here. A forest of hands went up as Shiamak-trained dancers kicked off the half-hour extravaganza. Though the exact number of participants could not be confirmed, the organizers claimed that more than 3,000 people joined them to shake their legs.
The current Guinness record for the biggest dance class is held by Moscow's GallaDance Lifestyle Dance Club, which established the record last year with 1,830 participants. "Unofficially, we smashed the record as approximately 3,500 people participated. About 1,800 was the previous record created in Moscow. We will submit all documentation to Guinness World Records and await confirmation from them," festival director Abhishek Mathur told IANS.
Adjudicators from Guinness World Records were on hand to see whether the dance class was held as per Guinness standards and how many people attended it. With their subtle movements, Shiamak-trained instructors guided the fun-filled dance class to a dizzying climax. And the crowd responded by a synchronized movement of arms, hips and heads to Bollywood chart busters "Om shanti om" and "Hun muajan hi maujan".
Indeed, the record-shattering show turned was a giddy mix of a riot of colour and high-voltage performance. Run by Shiamak Davar, who is known for masterly choreography in films such as "Dil to Pagal Hai", "Taal", "Bunty Aur Babli" and "Dhoom 2", the Shiamak Indo-Jazz Dance Movement runs three centres in Toronto, Vancouver and Calgary with the motto: Have feet, will dance.
— By Gurmukh Singh